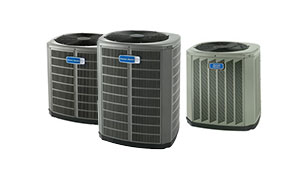 Once a luxury, having a reliable and dependable air conditioning system has become a necessity. With today's air quality concerns and scorching temperatures that continue to climb every year, finding relief in the summer months is essential. You need an air conditioning service provider you can trust to ensure your home is cool and comfortable.
Mike's One Call should be your first call.
As one of American Standard's oldest installing and servicing dealers in Central Pennsylvania. You can always depend on the reliability of American Standard Heating & Air Conditioning for a system built to deliver quality heating and cooling during your most precious moments.
Our goal is to reduce your cooling costs and to increase your system's operating efficiency. We take the time to inform you and discuss all of your options so you can make an educated decision, and enjoy a comfortable home all summer long.
Installation and Service
Thermostat errors
Electrical issues
Frequent Cycling
Warm Output temperature
Clogged condensate lines
Frozen systems
Refrigerant issues

Preventative Maintenance
Hybrid or Duel Fuel Systems
In our climate, heat pumps are not adequate enough to solely heat your home when the outside temperature drops below an approximate temperature of 30°. But replacing your AC system with a heat pump, or adding a heat pump to work with your existing LP gas or oil heating system, will allow your air conditioning to offset operating costs in heating mode and save you money.
Have questions? Let us go over each of the choices and benefits with you. If a simple repair is in your best interests right now, we'll tell you!
Make Mike's One Call Your First Call – (717) 763-9667